SURVIVOR: JOSEPH DAVIS
For three days and three nights, Joseph Davis — then Joseph Davidovich — rode in the crammed cattle car with his parents and six of his eight siblings. "We didn't know where we were going," he said. Finally the train pulled up to the Auschwitz platform. As the Jews were pushed from the cars, Dr. Josef Mengele, who was carrying a stick, hurriedly separated them. Joseph was directed to one side, torn from his family. His mother came running after him, carrying cookies she had somehow acquired, but a German soldier brusquely pushed her away. "That was the last time I saw her," Joseph said.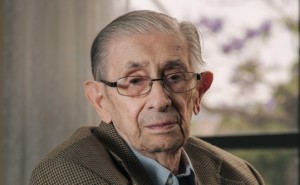 Joseph was born on Nov. 7, 1920, in Munkács, Czechoslovakia (now Mukacheve, Ukraine) to Izidor and Yety Davidovich. He was the third of nine children in the Modern Orthodox family.
Izidor was a tailor, and the family lived behind his shop in a two-room apartment with no running water and no indoor bathroom. The children slept four or five to a bed. "We were poor, but we didn't know it," said Joseph, who remembers wearing nice clothes and eating meat every Shabbos.
Joseph went to a Jewish school until the third grade, when he moved to a public school. At 13, he began working for his father. He also belonged to several Zionist organizations and dreamed of a land for the Jews.
In November 1938, Hungary annexed southwestern Subcarpathian Rus, which included Munkács. At first nothing changed, but later the Hungarians "tried to make life hard," Joseph recalled. In 1940, they revoked his father's business license and Izidor moved the tailor shop into the family's small apartment.
In spring 1942, Joseph moved to Budapest, finding a job with a Christian tailor. One day in February 1944, an old acquaintance of the tailor, a Jewish man, walked into the shop. "You're not my friend," the tailor told the man. "I don't like Jews." Shocked, Joseph left on his lunch break and never came back.
Joseph returned to Munkács, but almost immediately was drafted into the Hungarian army's forced labor battalions and taken to Szeged. He spent long days digging trenches, but conditions were tolerable.
After three months, Joseph was returned Munkács, to a brickyard. He didn't know that while he was gone, on March 19, 1944, Germany had invaded Hungary. In April, the Jews of Munkács were forced into a ghetto and in mid-May transferred to two brickyards near the railroad tracks.
There, Joseph found his mother, father and six of his siblings (his older brother David had gone to Prague and a younger brother, Zolly, was still in a labor camp). "Why did you come home?" Joseph's parents cried when they saw him.
When he got to Auschwitz, Joseph was transferred after just a week to Buchenwald. There, the Germans confiscated his clothes, shaved his head and gave him a striped uniform with the number 47552 on the front and a pair of shoes with wooden bottoms. "No pockets, no underwear, no socks," Joseph explained.
About a week later, sometime in June 1944, he was taken from Buchenwald to a camp in Reinsdorf, Germany, near Leipzig. Along with the 5,000 Jewish prisoners there, he rose at 4 a.m. every day to be counted and receive a cup of watery soup and slice of bread. He then walked more than half an hour to a bombed-out factory where the prisoners worked outside, reconstructing the building.
A German engineer discovered that Joseph was handy, and he became the only one of the Jewish prisoners to work inside the factory, dismantling and repairing the electric engines of the modern Swiss machinery used to make gasoline from coal. He was also given a key to access tools.
"Schneider, du kannst alles," ("Tailor, you can do everything") the engineer often said to him. Occasionally the engineer brought him food, as well. He also gave Joseph needles to sew caps for him.
And since prisoners had no pockets in their uniforms, Joseph fabricated boxes with shoulder straps out of titanium for them to use to carry extra food they sometimes received, crafting metal cutters from hacksaw blades. He also created shoulder bags out of canvas, appropriating the canvas from the machines. "If they would catch me, I would get shot on the spot," he said. He sold these items for food. "We were hungry day and night," he said.
To fight the bitter cold, he made vests out of blankets, which prisoners wore under their uniforms. "Unfortunately, where did I get blankets? People were dying every day," he said.
Once, during a camp inspection, Joseph, who was thin even before the war, was selected for the crematorium. He showed the SS the key for the tools and said, "I'm working on an important job on the machinery." He was released.
One morning in April 1945, as the Allies closed in, the Germans loaded the prisoners into open boxcars and left. A short distance later, however, the train stopped, its engine hit by an Allied bomb.
The Germans then took the prisoners — hundreds of men, Joseph estimates — on a death march, walking all day and sleeping in ditches at night. Once they stopped at a farm for food. Otherwise, they ate grass or dug up potatoes.
After days, they reached Theresienstadt, where they were housed in an old army barracks. Joseph remembers seeing himself in a mirror. "I got scared of myself. There was no meat on me, not half a pound," he said.
Russian soldiers liberated the camp on May 8, 1945.
A few days later, Joseph took a train to Munkács, riding on the top of a car, as there was no room inside. There he found his younger brother, Zolly. His sister Frieda and brother Barry, who had been sent to Auschwitz, also survived.
Joseph returned to the family's apartment, which had been gutted. Even the wooden floorboards were broken where people had searched for valuables. Joseph found only a few pages from a children's book lying on the floor. "I started to cry," he recalled.
He traveled to Budapest and, a few days later, to Liberec, Czechoslovakia, where he found an apartment and work as a tailor.
One day he went to an apartment to pick up a loaf of bread someone had dropped off for him. He was met at the door by Sarah Weiss, a young woman from Zadnya, Czechoslovakia, who invited him to dinner. Joseph, who was much taken, made her a raincoat of printed fabric to impress her father.
Sarah already had papers to go to the United States, and she left in 1947. The two stayed in touch by writing letters for two years, and when Joseph arrived in the United States on Jan. 24, 1949, bringing his sewing machine with him, they married the next day. They settled in Atlantic City, where Joseph worked for a high-end tailor shop on the Boardwalk. In 1954, he opened his own shop, Joseph's, and in 1959 he opened a fabric store, Joseph's Fabrics.
Joseph and Sarah have three children: Eddie, born in 1950, Shirley in 1952 and Judy in 1956.
Joseph retired in 1996, at age 76. In April 2007, he and Sarah moved to Los Angeles to be with family, including grandson Matthew. They live together in the Beverly Hills Carmel retirement community.
Joseph enjoys spending time on his computer, especially searching for old Hebrew songs that he remembers from his Zionist days in Munkács. He also enjoys attending services at Los Angeles' Sinai Temple, where he is a member.
"Those who wanted to eliminate the Jews, they're not going to make me a non-believer. My father believed, and my grandfather believed," Joseph said.