MEMORY IS WHAT SHAPES US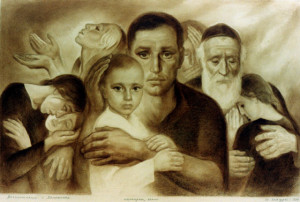 HURLBURT FIELD — Shortly before her parents were murdered in the gas chambers at Auschwitz, 14-year-old Molly Gross was sent to a labor camp.
Gross did not know that most of her family was about to become part of an extermination that would claim 6 million Jewish lives. She spent long days in a factory sewing over bullet holes in German uniforms.
Her supervisor was the daughter of the factory owner, but a good woman. She often hid apples in Gross' work basket and repaired her shoes in secret when they began to fall apart.
Seventy years later, Gross' daughter spoke at Hurlburt Field's Holocaust Days of Remembrance ceremony.
"Those small acts gave my mother hope amidst darkness and despair," Dr. Lori Ripps said Thursday. "So much of what happened is simply unfathomable. Beyond comprehension … But there was humanity in the inhumanity."
Ripps was one of several speakers at the annual event, which focused on the theme of rescue and honored those who risked their lives to fight genocide.
Ripps' daughter, Hannah, sang a hauntingly beautiful rendition of "Ani Maamin," which translates from Hebrew as "I Believe." Many Jews sang the prayer when heading to the gas chambers. It became known as the Hymn of the Camps.
"When we take time to remember those who preceded us. We're doing something that's inherently human," said Col. Mustafa Koprucu, commander of the 505th Command and Control Wing at Hurlburt.
Koprucu quoted Edmund Burke's famous saying: "All that is necessary for the triumph of evil is for good men to do nothing."
Joseph Callewaert lived through World War II and authored "Lights Out for Freedom," stories from Belgium during the Nazi occupation. At the end of his speech he played a silent film that was ordered by the camp commander at Auschwitz. It showed hundreds of Jewish prisoners boarding one of the final trains bound for Auschwitz from a station in Westorbook, Netherlands.
"When you watch, I want you to take note of a particular image," Callewaert said. "It is of a 10-year-old girl whose name we have discovered was Stella."
It was a frame of a young girl, dark hair whipping in the wind as the train departed the station. Callewaert said most Jews in the video were calm and casual because they believed they were just being relocated. Stella was unsmiling.
Of the 1,019 people boarding the train in the film, only 107 would survive the concentration camps. Stella was not one of them.
Holocaust survivor Estelle Laughlin spoke the opening lines in a video that was shown from the U.S. Holocaust Memorial Museum in Washington, D.C.
"Memory is what shapes us. Memory is what teaches us. We must understand: It's where our redemption is."